WELCOME TO SKI-BUNNIES.COM
Ski Bunny:
a
fun-loving, sexy, attractive, female ski enthusiast.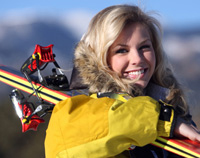 We are all attractive, sexy ski-bunnies eager to be invited by you on your next ski holiday! We are ready to meet you at your ski resort or the closest airport to it and we will make your ultimate holiday dream come true. Imagine being in a romantic ski resort with a stunning new girl-friend on your arm, there day and night only for you! Your chosen ski-bunny will be by your side to ski with you, dine with you, relax with you, party with you - in fact be your devoted companion, ski-partner and loving girl-friend throughout your entire time together.
So are you ready for your best-ever ski holiday? Here's what you do – choose which one of us you wish to invite and then complete the reservation form to check availability. You will receive a prompt reply.
Your holiday of a lifetime is just a few clicks away!